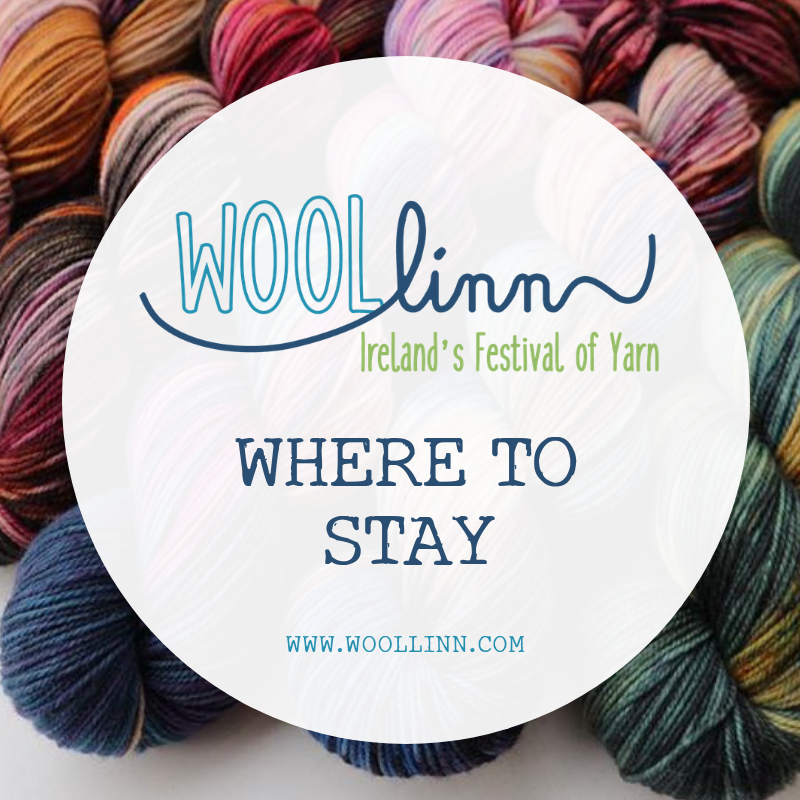 THE CITY NORTH HOTEL
There are currently a limited number of rooms available at the Festival venue on Thursday 13th June and Friday 14th June 2019. These rooms can be booked direct by calling Sabrina on +3531 690 6626 or emailing her at sabrina@citynorthhotel.com, referencing Woollinn at the time of getting in touch.
JOIN THE KNITTINGTOURS.COM 9 NIGHT WOOLLINN ADVENTURE
The fantastic people at KnittingTours.com have put together a special 9 Night Woollinn Adventure, with tons of added extras for your stay in Ireland. Spend 3 days on site at Woollinn and then take in the sights of Cavan and Donegal, learning from skills artisans and crafts people along the way. To find out more see: KnittingTours.com (This is an Affiliate Link but also a genuine recommendation. The KnittingTours.com team have been running top-quality tours in Ireland for several years now and their trips are exceptionally well reviewed.)
DUBLIN CITY CENTRE
It will be possible to stay in Dublin City and commute to the City North Hotel, using the Matthews Coach Service that leaves from Cumberland Street North (an approximately 30-35 minute journey time). The Drumcondra and Whitehall areas of north Dublin are also served by this route. There are plenty of hotels in Dublin City Centre, but Air BnB is also a good option if you'd like to stay more centrally. The Academy Plaza Hotel and the Holiday Inn Express are good options too as they are very near to the bus drop off and pick up.
NEARBY HOTELS
The Bracken Court Hotel – Balbriggan
The Village Hotel – Bettystown
The Boyne Valley Hotel – Drogheda
Self-Catering / Air BnB
The nearest towns to the City North Hotel are:
With public transport options (Matthews Coaches): Julianstown, Laytown, Bettystown, Central Drogheda.
Accessible by Taxi: Gormanstown, Stamullen, Duleek, Bellewstown, the greater Drogheda area.
See: Self Catering in Ireland and Air BnB
–
We also have advice on Travel and Transport right here.
We look forward to welcoming you to Woollinn 2019!