Saturday Morning Workshops – 10am to 2pm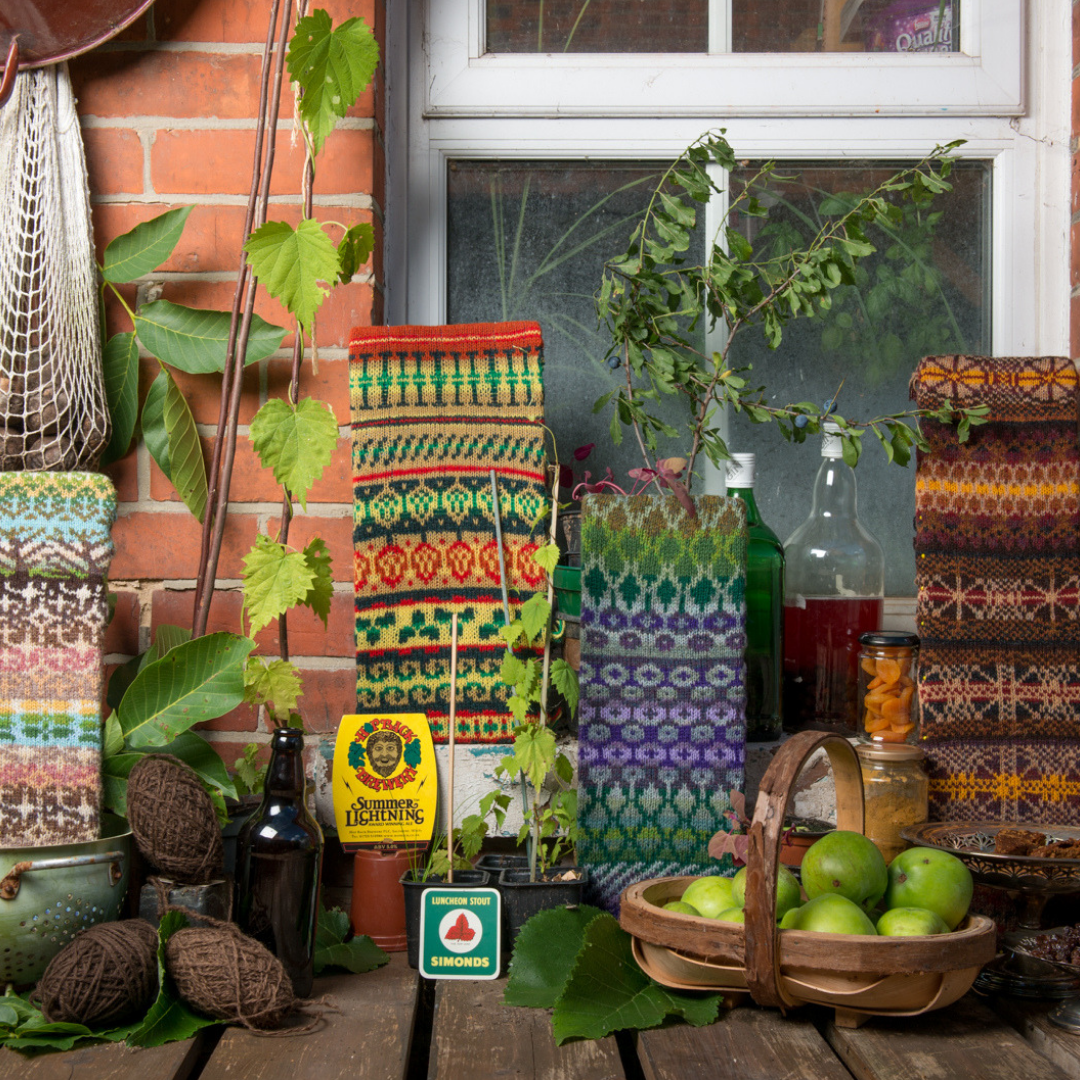 Felicity Ford – Colours of Flowers
Learn how to translate your favourite flower into stranded colourwork and how to use your own motifs to make a personalised, floral shawl. This class expands on the Efflorescent chapter in the KNITSONIK Stranded Colourwork Playbook and includes a copy of the pattern as well as access to all the swatches and photos used in the book. We'll pick a yarn palette and develop charts and shading schemes from your chosen flower as well as discussing sunlight and petals; the maths of the Efflorescent shawl; different floral and petal shapes; and knitterly methods for celebrating blooms and blossoms in glowing rounds of knitting.
The class covers:
Picking yarn shades for stranded colourwork.
Confidence with colour.
Observation/appreciation of everyday inspirations.
Charting and design skills.
Steek management and options for steeking.
Swatching for stranded colourwork.
Skill Level:
Attendees will need to know how to knit small diameter projects in the round and be comfortable and familiar with working two yarn shades at once (Fair Isle method, sometimes also called Stranded Colourwork).
Materials Required:
Felicity will supply a large palette of shades Shetland yarn for students to make use of during the class.
Squared notepaper.
Pencil or pen for charting designs (coloured pencils are not necessary unless you have a strong preference for using them).
Circular or double-pointed-needles as you prefer for working small-diameter stranded colourwork projects in the round: recommended needle size 2-3mm depending on your tension (use larger needles if you tend to knit tightly; use smaller needles if you tend to knit loosely).
1-5 printed photos of your favourite flower to use as your inspiration in the class (please pick just one type of flower)
Advance Preparation:

Please choose a flower to work from for this class. Take several photos of this flower and then print out a very small selection – 1-5 – to use as your inspiration source. You can use a phone or tablet but will find it much easier to match and work with colours if you print your photo(s) out ahead of class.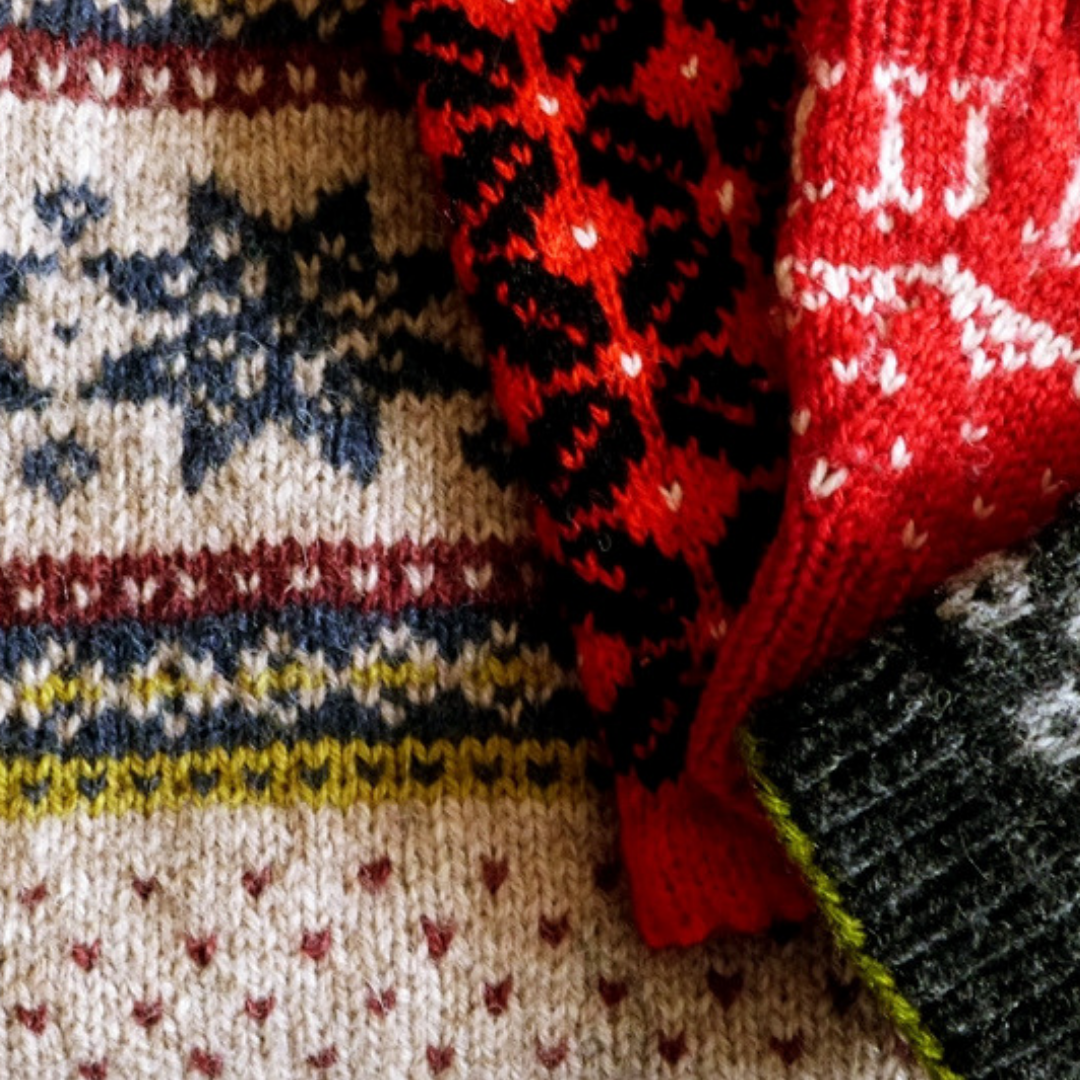 Karie Westermann – Nordic Traditions
This class will introduce you to the many, varied knitting traditions of Scandinavia and the Nordic region. Together with Danish knitwear designer Karie Westermann, you will explore Icelandic, Faroese, Norwegian and Danish knitting heritage as you knit colourwork 'the Nordic way'.
She will discuss authentic colour choices and regional differences in colourwork, among other things. You'll have the choice between making two different styles of wrist warmers on the day – and we'll even talk about a certain famous Faroese jumper! You will also get a chance to look at Karie's gorgeous samples.
Skill Level:
Intermediate – you need to be comfortable knitting in the round and be able to follow an easy colourwork chart.
Materials Required:
2 colours of DK yarn (wool or wool-blend), 50g of one, 25g of the other.
4mm needles (you'll be working both back & forth as well as in the round with small circumference – bring your preferred needles for this).
Tapestry needle.
2 stitch markers (optional).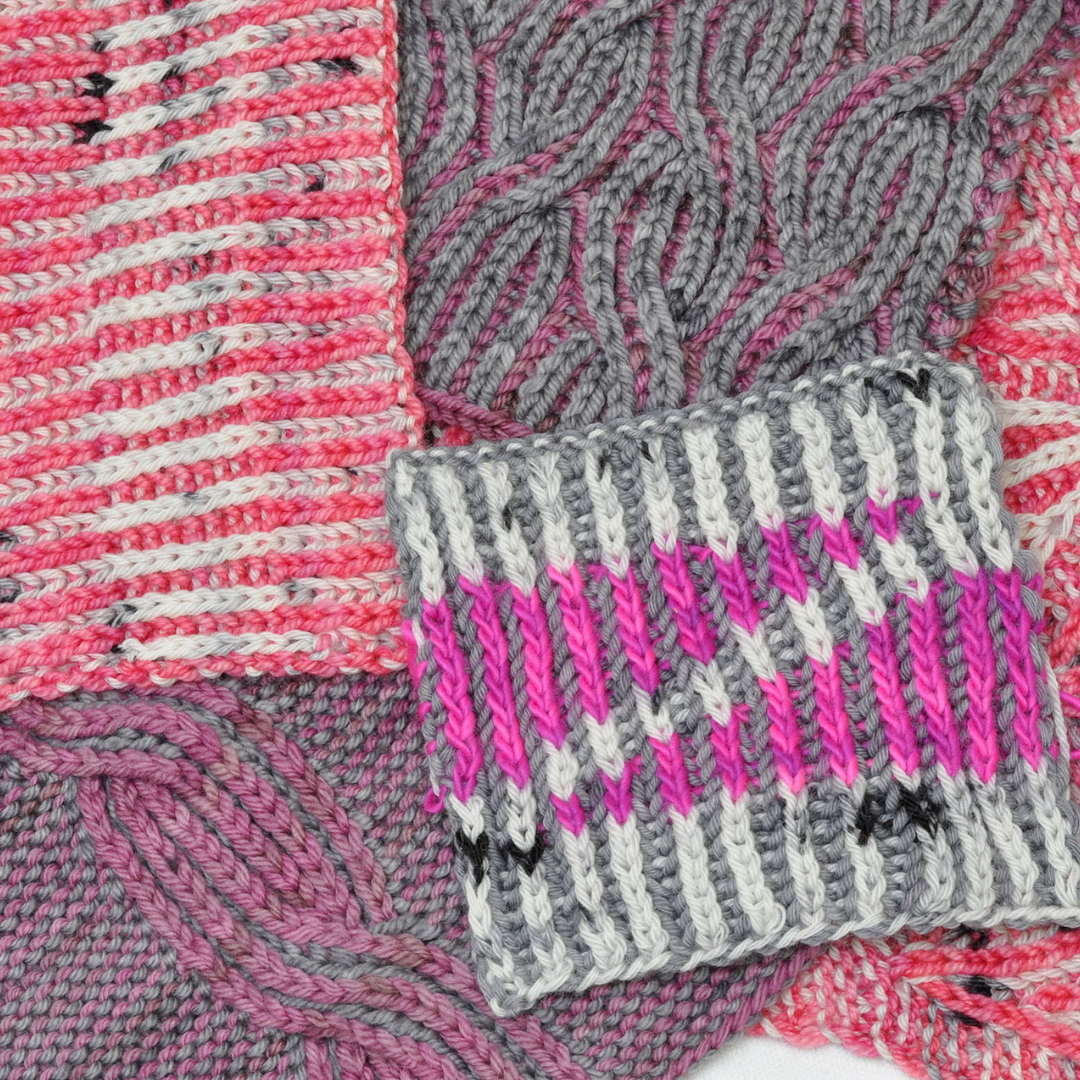 Susanne Sommer – Brioche Adventures – Going Beyond the Basics
Get to know the many design possibilities of brioche stitch! In this class, experienced brioche knitters will learn how to knit graphic brioche motifs, syncopated brioche, brioche short rows and combining brioche with other knitting stitches and textures. We will also discuss which influence yarn and color choice has on the finished piece and how to combine different yarn weights and fibers.
Skill Level:
Students should already be comfortable with brioche knit and purl stitches.
Materials Required:
At least two colours of yarn and matching circular needles (with 16"/40 cm or 24"/60 cm cord) or DPNs (eg. fingering weight and US 4/3.5 mm, or worsted weight and US 7/4.5 mm). Several stitch markers and one locking stitch marker.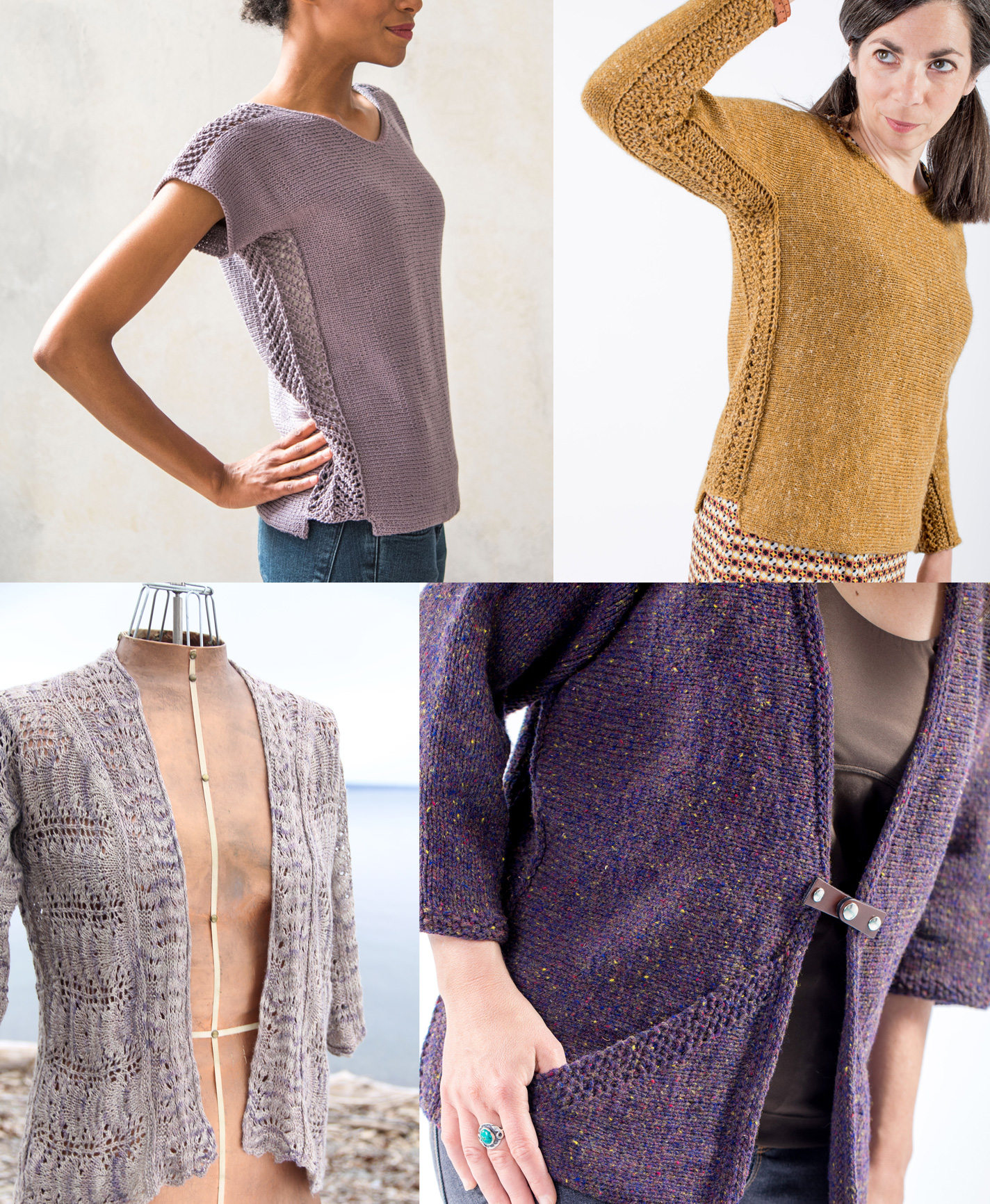 Laura Nelkin – Knitting a Novus Sweater
In this class 3 hour class Laura introduces you to the "Novus" construction, her seamless yet structured modern aproach to the side-to-side sweater. She'll cover how the construction works, how to modify the construction to fit your body, any necessary skills needed for the construction (i.e. provisional cast on, lifted increases, German short rows), and how to plug a stitch pattern or motif into it. (To see examples of this construction, check out her Vindur and Novus Jacket patterns!) Then we'll discuss choosing yarn to knit your sweater and cast on for a sleeve. By the end of class you'll be ready to independently knit your own sweater from the collection.
Skill Level:
Knit/purl; comfort reading a pattern; best for knitters who have knit a sweater before OR are adventurous first time sweater knitters
Materials Required:
DK or worsted weight yarn (this is just for swatching/learning techniques, not for your sweater).
Size 4mm to 5mm (US 6 – 8) needles.
You will be spending a fair amount of time talking about yarn choices and then choosing yarn to audition for your sweater. Please don't purchase yarn ahead of time unless you are sure you know what you want to use!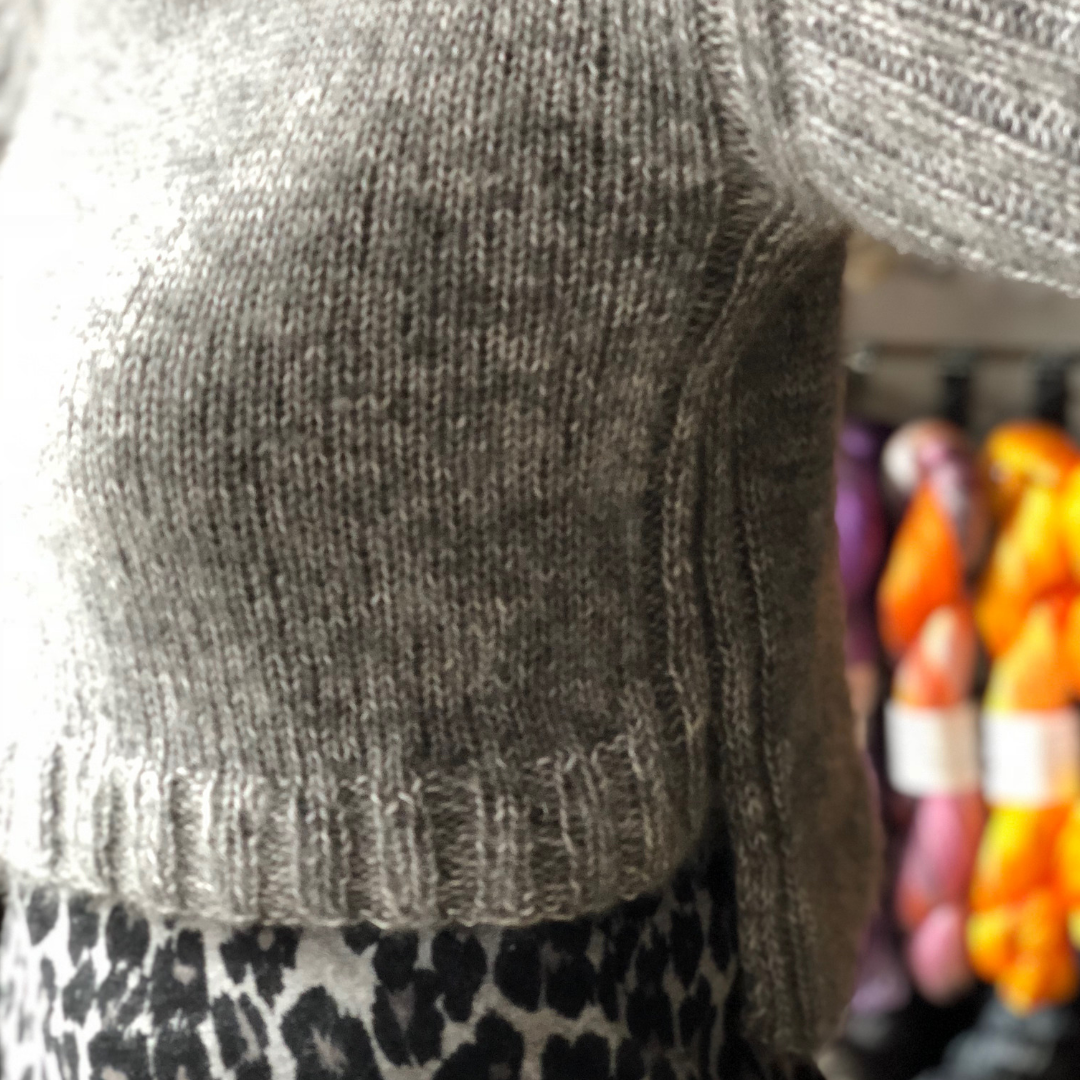 Kate Atherley – Make or Break Garment Skills
Knitting patterns can be quite vague, sweater patterns most of all. Instructions like "decrease every RS row 4 times" and "Increase evenly across" present two types of challenges: figuring out what they mean, and then how to work them. There are so many different methods, and the choice can make all the difference in how the finished project looks – and how it easy it is to put together. We'll review key finishing tasks: setting in sleeves, and picking up neckline stitches. And we'll talk about ways to making the finishing quicker, and easier
Skill Level:
Beginner garment knitter: knitters need to have worked a garment project or two.
Materials Required:
About 50gm of light-colored worsted or aran weight yarn
4.5mm needles for working flat
2 lengths of scrap yarn or stitch holders
Advance Preparation:

Four small swatches will be required for homework – details will be provided one month before the class date.